Joshua Stutter Writing my PhD using groff
Twenty–first–century monograph man
Writing in the final year
Typical typesetting tools for a PhD researcher: Word, LaTeX
Humanities
Sciences
Groff in Pandoc
Six LaTeX methods using four engines (pdflatex, lualatex, xelatex, context), latexmk being a frontend to pdflatex and tectonic a frontend to xelatex
Four HTML to PDF converters requiring a two–step process from Markdown to HTML then to PDF
pdfroff: on my system this is groff with the ms macro set
pdflatex
lualatex
xelatex
latexmk
tectonic
context
wkhtmltopdf
weasyprint
pagedjs-cli
prince
pdfroff
Speedy groff
Greater things
Notes on using groff for academic work
Mom's own documentaton page on refer.
James and Schaffter's PDF document, especially for creating internal links.
Bentley and Kernighan's paper on grap (warning: Postscript).
Raymond — Making pictures with GNU pic.
Richard Taruskin, 'Review: Speed Bumps',

19th–Century Music

vol.29, no.2 (2005), pp.185–295 <

https://doi.org/10.1525/ncm.2005.29.2.185

> [accessed 21 July 2022]

↩︎
Nicholas Cook, 'Alternative Realities: A Reply to Richard Taruskin',

19th–Century Music

vol.30, no.2 (2006), pp.205–208 <

https://doi.org/10.1525/ncm.2006.30.2.205

> [accessed 21 July 2022]

↩︎
Harry White, 'The Rules of Engagement: Richard Taruskin and the History of Western Music',

Journal of the Society for Musicology in Ireland

, vol.2 (2006), pp.21–49 <

https://www.musicologyireland.com/jsmi/index.php/journal/article/download/12/11/43

> [accessed 21 July 2022]

↩︎
Richard Taruskin, 'Agents and Causes and Ends, Oh My',

Journal of Musicology

, vol.31, no.2 (2014), pp.272–293 <

https://doi.org/10.1525/jm.2014.31.2.272

> [accessed 21 July 2022]

↩︎
Domains
Logical domain: the "composer's intentions"
Gestural domain: aspects of performance
Visual domain: how notation looks on the page
Analytical domain: post hoc analyses of music
Semantic Domain
Automatic Transcription
Transcribing Module
Walking Module
Result
The "Setting"
Encoding Encapsulation
Parent: the containing box of an element
Children: the boxes contained within this element
Siblings: other boxes that share the same parent element
Partwise
Each part element is a sibling of its successor and predecessor.
Staves can be considered at–once.
Mirrors the exact lack of verticality in the notation.
The information of which items occur simultaneously is lost. In common MEI or MusicXML, this can be inferred by counting durations, but in Notre Dame notation, rhythm is subjective and up to interpretation. We cannot rely on duration counting.
Virtual items, such as the idea of a common tactus between parts, or a common ordo length, is also lost.
Timewise
Everything that occurs together is grouped together.
Polyphony can be easily extracted
Often to reach the next note in a stave, we have to traverse up the structure to reach a common ancestor.
Infers an editorial synchronisation between parts as a first–class element.
Cannot infer verticality between a subset of parts.
A third way: graph(-wise?)
Creating an Analysis Package
Pipeline
Setting up a pipeline;
Adding the components of the website scraper, transcriber and a component that saves the result to disk;
Running the pipeline and waiting for it to finish.
PipeObjects
Scraping
Transcribing
Parsing
Synchronous (Hardsynch): A and B occur at the same time
Softsynch: A and B are some distance away, but their distance can be computed, the weight of this edge being defined as the reciprocal of the distance between the nodes.
Transforming
Analysing
Interpreting
Utilities
Graph Analysis
N-grams
N-grams in a corpus graph
This same breaking of encapsulation is found in how MEI must deal with ties and slurs, although they use another weird attribute hack:

https://music-encoding.org/guidelines/v4/content/cmn.html#cmnSlurTies

↩︎
Joshua Stutter, 'pipeline.py',

GitLab

<

https://gitlab.com/candr1/candr-analysis/-/blob/424a2b0162b8f4055f35dc387ce6638b2dea4add/src/candr_analysis/utilities/pipeline.py#L128

> [accessed 24 March 2022]

↩︎
Better ML
RAM Emergency
Putting it all together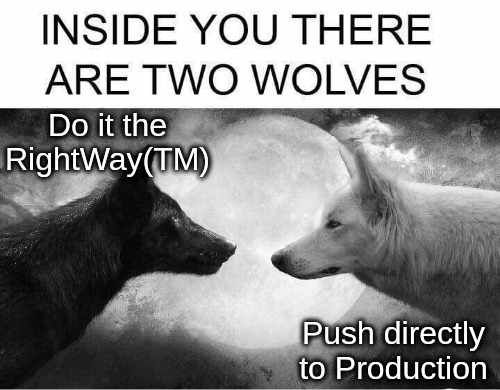 Moving to the left
CI is a way to make a change to your code and the resulting app or website to be automatically built for you.
Docker images are pickled versions of services that can be stored as a file, uploaded to a registry and then pulled from that registry and deployed at will.
Kubernetes is an architecture that can deploy Docker images with zero downtime by maintaining multiple running copies of those services and performing an automatic rolling update of those services. In addition, if you have passwords or secrets that need to be passed to those services, it can inject those at runtime rather than your Docker images being passed around with passwords stored inside.
Manual tracing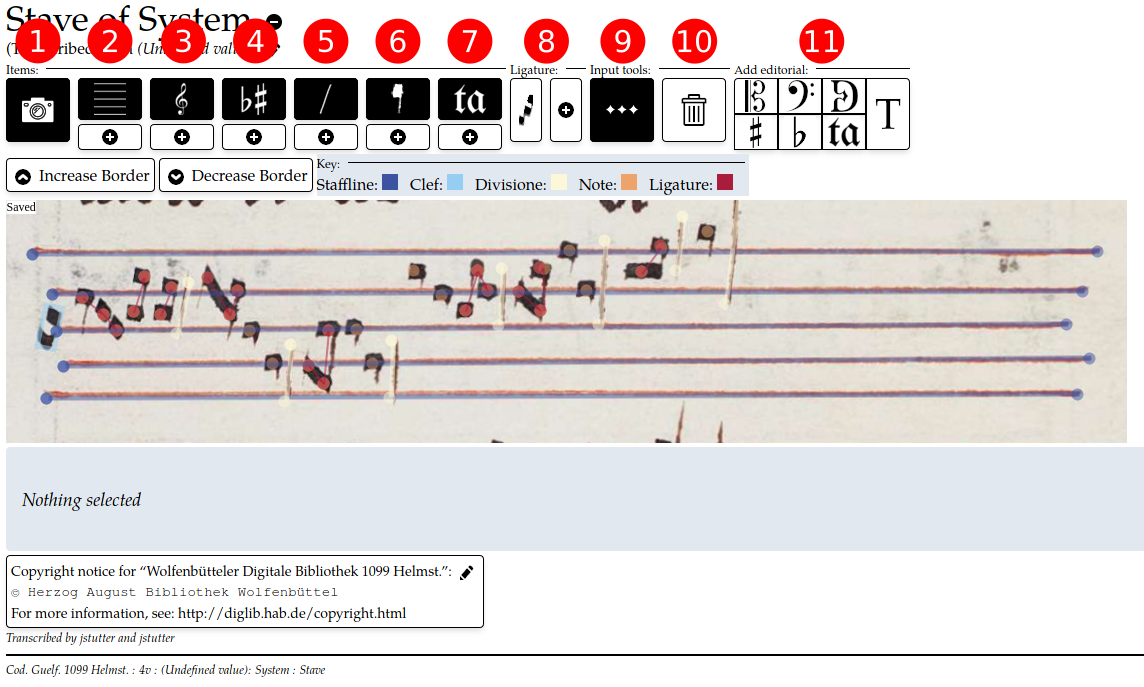 Trace the stafflines using the staffline tool (2). Use the multi-input function (9) to trace all of these at once. There are typically four to six. It is important to trace these first as they will form the basis for the pitch content of other elements such as clefs, accidentals and notes.
Trace non-note data. I usually like to begin with the clef (3) as all staves need one of these (existing or editorial), then a starting accidental if present (4), finally using the multi-input tool once again to trace the divisiones (5).
Trace the notes (6). Use the multi-input tool to click on the note heads, taking care to see which have plicae and which will be transcribed incorrectly by looking at the green staffline outlines.
Go back over the notes and add plicae and manual shifts where necessary to correct the notes' transcription.
Add syllables to notes (if present) making a best guess as to which note this syllable is attached to.
Finally, use the transcription wizard (not in screenshot) to mark this stave as transcribed.
Uploading the dataset with some script-fu
The filename of the first JPEG.
The folio that this JPEG is a facsimile of (recto was assumed, and the first images of JPEG sets that began on verso were manually inserted).
The final folio in this set.
The "width" of the filename, e.g. a width of five would be numbered 00001.jpg, 00002.jpg, 00003.jpg etc.
A startling realisation
Search for help 1: Image segmentation
Search for help 2: Machine learning
Roll your own
Asking the right questions
How many stafflines are there? (Staves commonly have between four and six).
Which areas have stafflines in? (This is known as region of interest or ROI for short).
Where in these areas are the stafflines?
The ML process
Training. Give the model a whole load of

input → output

cases and let the algorithm work itself out using the parameters you've given it to generate a neural network that best can predict the output given the input.
Validation. Use more data to check that the training you've done is accurate, or at least good enough. This should be data that you haven't used in your training. What we're checking for here is that the ML model has learnt the underlying process behind

input → output

rather than just learning that set of data and being very good at replicating it.
Prediction. Your model is complete! Use new input to predict some outputs.
1. How many stafflines are there?
2. Which areas have stafflines in?
3. Where in these areas are the stafflines?
Joshua Stutter, 'CANDR',

GitLab

, <

https://gitlab.com/yockyrr/candr

> [accessed 1 October 2020]; Joshua Stutter, 'CANDR Data',

GitLab

, <

https://gitlab.com/yockyrr/candr-data

> [accessed 1 October 2020]

↩︎
Joshua Stutter, 'Uploaded W1 (c74fac5a)',

GitLab

<

https://gitlab.com/yockyrr/candr-data/-/commit/c74fac5ac9a586da33ca84db7b809db569c17bcf

> [accessed 1 October 2020]

↩︎
Confusingly, OMR more famously stands for optical

mark

recognition, the kind used for Scantron™ multiple choice tests, so a blind search for "OMR" won't necessarily yield much music!

↩︎
The first dead end: XSLTProcessor
What? … Why?
XInclude
Error: There was an error somewhere, idk, stop asking, leave me alone!
Back to the server
My XML history
MEI is a 90s baby
XML's role in the semantic dream
So what is XML good for, anyway?
Highway to hell
This put me off ever touching XML, twelve years ago, and I had no need for XML anyway: Jeff Attwood, 'XML: The Angle Bracket Tax',

Coding Horror

, 11 May 2008 <

https://blog.codinghorror.com/xml-the-angle-bracket-tax/

> [accessed 19 July 2020]

↩︎
Joshua Stutter, 'The musical, notational and codicological evidence of W1 for an oral transmission of Notre Dame polyphony to Scotland' (unpublished MMus thesis, Glasgow University, 2020) p. 44–45, in Database of University of Glasgow Enlighten <

http://theses.gla.ac.uk/79015/

> [accessed 19 July 2020]

↩︎