How to advertise to developers: deep dive into paid developer marketing
allergic to "marketing" and advertising
tribal, they only really believe other devs when it comes to tech
"So they don't like ads, don't believe them, and they discard things that are not obviously valuable to them right now? Cool. Let's run some Instagram carousels and wait for signups!"
core components of paid ads
paid channels that you can try
dev advertising principles
examples of great developer-focused paid ads campaigns
Components of paid developer marketing
Goal

: what do you want those people to do
Targeting

: where and who you want to show your ads to
Creative

: what you want to show them
Landing page

: where they go after clicking your ad
Campaign goal
Brand exposure:

you want people to see what you do so that when they have a problem they will think about you. Remember that the vast majority of your ideal developers are not in the market to buy your dev tool today. That is why you should

invest in branding to grow demand

for the future
Activation:

you want people who have signed up to start using your tool
Engagement

: you want people who use your tool to use it more often
Upgrade:

you want free users of your tool to upgrade to paid plans
Signups

(obviously): you want people who have the need for your tool to buy/signup right now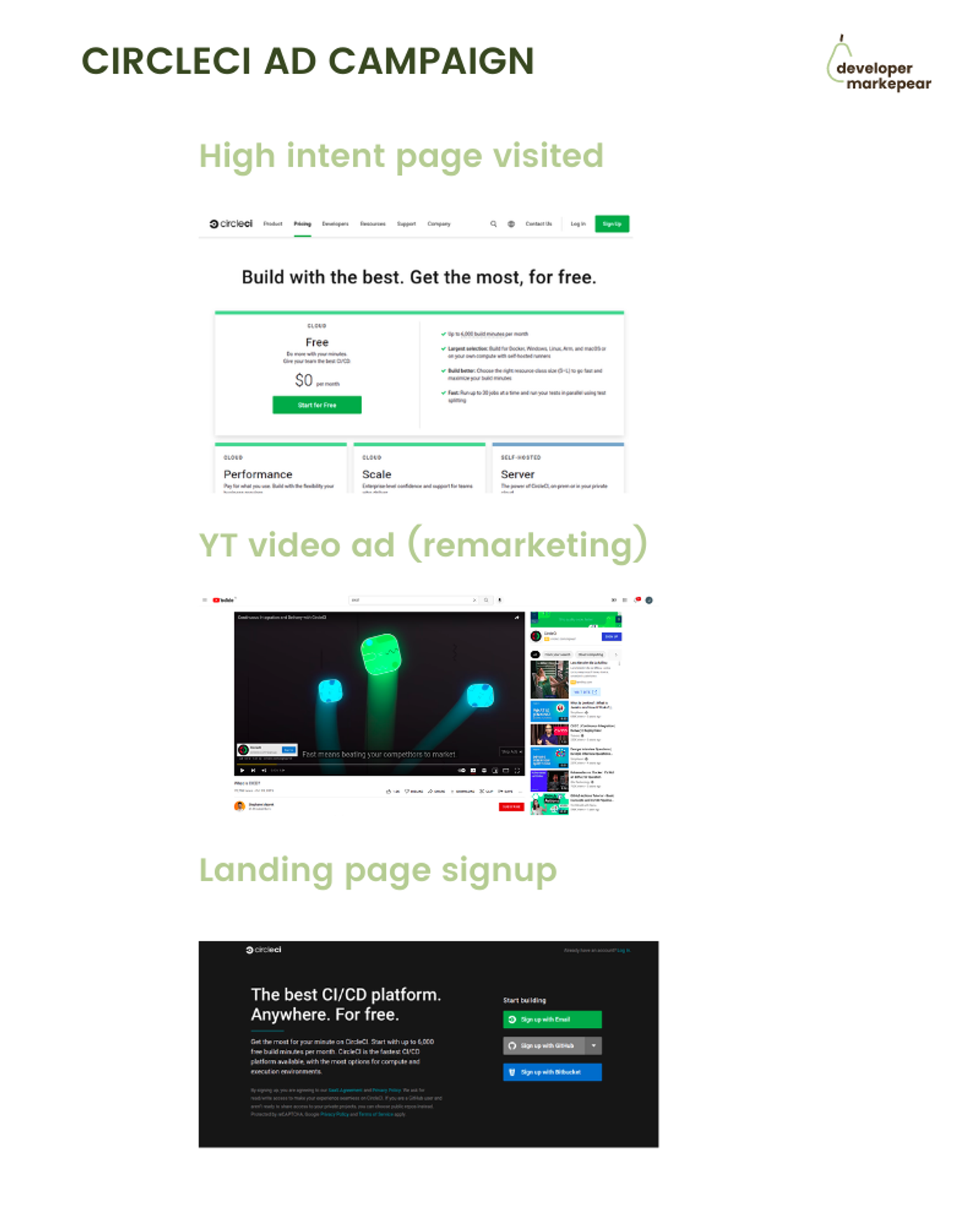 Ad Targeting
tech stack

: language, frameworks, libraries, tools
role

: front end vs back-end vs DevOps vs security vs machine learning engineer
context

: enterprise vs startup vs software house vs freelancer vs hobbyist
seniority

: junior vs regular vs senior vs principal vs architect
they want to boost their profiles
they worked with them (years) before
they feel that they should have them look professional but don't really know those technologies
Reddit

- find subreddits where your devs are
Twitter

- find Twitter handles of people who talk to your devs and keywords they interacted with
Youtube

- find channels your devs watch
Linkedin

- find your devs by role/seniority/languages
Cookie

: When a person visits a certain page on your website you give them a cookie. Later you can use that cookie to show relevant ads.
Email

: When a person signs up to your tool you can use the email from the signup to target that person (and similar people) on platforms like Google. BTW you probably need a lot of emails to make this one work. From my experience, 2000 emails of ideal profiles was not enough because the match with the Google database was really low.
Ad Creative
Ad format

: in-feed, display banner, pop-up ad, ad carousel, pre-roll video
Ad medium

: the visual, text (copy), animation, or video.
Actual creative

: what words and visuals you use
don't do popups as they just piss people off
do static (vs dynamic) banners to make sure people don't have to wait to see what the ad is about (unless you are running video, then it is ok)
do native, in-feed promoted content (but try to add value to the surrounding context)
do simple text and links, especially if you go for newsletters or blog sponsorships
Ad creative basics
be clever, snappy with your copy
talk values, not features
devs don't want it to read like an ad (

hate advertising

)
devs want the ad to be relevant (

practical and pragmatic

)
devs don't believe to good to be true statements (

skeptical

)
devs want to buy from other devs (

expertise

)
Ad relevancy
Ad practicality
you filtered out people with good targeting
you made the message so relevant it filters out most of the people.
Practical

- Django, "generate sales reports", screenshot with nice reports
Relevant

- Django, "e-commerce app"
differences vs other tools (and link to comparison pages)
case studies of people/teams using your tool for a use case X (and link to a case study)
getting started and examples (and link to the docs)
Examples of great ad creative
"It doesn't suck"
"Sorry, we blew our budget on X"
"What makes you happy?
Landing page
"D" is so cool that it not only does sales reports but also error monitoring and 5 other things important for e-commerce devs.
The company behind "D" has an awesome Django podcast that they talk about on their homepage
And they just raised a big round and hire like crazy, which they also talk about on the homepage
"D" works with 15 other Python frameworks for web dev
The homepage copy starts with the headline "Enterprise platform for e-commerce analytics"
Vertical/Role/Use case page
Landing page for getting started
Team plan + case study mix
Captera or G2 profile (could work for google search campaigns for keywords like "YourTool + review")
Classic landing page (Datadog)
The page doesn't have the navbar so you focus your attention on this page only
Additional details with features and values
Supporting visual that helps present the values
A list of benefits presented in a format headling + details + visual
Social proof with some logos
Developer portal (Algolia)
Blog post
Landing page getting started (Algolia)
Team plan + case study (Contentful)
Resources like whitepapers ebooks, webinars (Auth0)
Integrations landing page (circleci)
Signup retargeting landing page (circleci)
Pillar page (CircleCi)
Feature page (LaunchDarkly)
Paid developer marketing channels
Most of those things haven't worked for me.
Branded search on google:

pretty much a google tax on keywords containing your "ProductName".

If you don't bet on it, your competitors will.

The good thing is, it is way cheaper for you than competitors
Video remarketing ads on youtube:

you amplify already existing conversion paths by showing ads to people who visited your product/pricing/docs or high-intent blog pages.
you can

specify the conversion event

and let Google optimize your ad targeting for you.

This can work if you can really create a conversion event that is super close to revenue.

Otherwise, the algorithm will optimize what you wanted but the conversion after that may drop.
you can

filter the pages where your ads are shown

to make sure those are visited by your target developers.
"Transparent Advertising For Developers That Works"
documentation hosted on Read the docs (python projects)
small, tasteful, non-intrusive ads
targeting is done by page which can be great if you know your audience
ads are served in the context of learning/working
You get a place for a small visual
You get a small text field where you can make things bold
You can filter pages where you show your ads for a bit higher price
the pages your ads are shown on are focused on developer and designer audience (similar to Ethical)
the ads are displayed in a less minimal way in banners all over those pages (similar to GDN)
Keywords

: select a keyword that people engaged with (tweeted, commented, liked, reshared etc)
Follower look-alikes

: look at the followers of an account and create an audience of similar people
understand which influencers your target audience follows
create an audience based on influencer look-alikes (I'd potentially add competitors and tools from the ecosystem to the pack)
filter out further on keywords people engaged with
you can go vs competitors in a tasteful way
you can promote your deeper blog post on your core product problem
Blurbs from the case studies
at the

top

of the

SERP

: classic and default option for most.

Very intrusive and in your face but so common it probably doesn't piss people off anymore.
at the

bottom

of the page: an interesting approach to target people who didn't find what they were looking for on the first page.

It is less intrusive and almost feels helpful.
brand

: "gitlab", "launchdarkly docs", "snyk review"
core feature/use case of your product:

"continuous integration", "how to manage feature flags"
brand and core feature typos:

"sntry", "serch engine"
competitor alternatives:

"vs circleci", "bugsnag alternative"
integrations: running ads for tools we integrate with that link to our docs
competitor name: running ads on our competitor's name that go to our "us vs competitor" pages
feature and use case that links to blog posts and pillar pages
Retargeting (remarketing)
when users visit your website they get a tracking pixel (cookie)
this cookie is passed to ad platforms
ads are served to those exact users
What is next?
Figure out what you want to achieve (goal)
Choose a platform. Make sure your audience is there
Setup conservative targeting (filter out too much if you have to but make sure you are talking to the right audience)
Design a practical and relevant ad creative. Use Moat for inspiration
Connect to the right landing page (amplify paths people are already taking)
Run a minimal viable test first
If the test was successful, scale your ad spend
Support
Went on a bit of an exploration journey last month to understand how people run paid ads on the developer audience. Wanted to know what we are doing right and wrong. Learned a lot. Here it is. This will be long but hey I said it was a journey :)1/